Non sei se estou inferindo unha conclusión a partir da miña propia relación con este tipo de entretemento, pero dáme a sensación de que a época de ouro de ver como vive a xente rica en series feitas a medida (ou non tanto) está de capa caída. Quedou atrás Keeping Up With The Kardashians (está por ver como se reinventan no novo programa que estrean o próximo 14 de abril), as Real Housewives Da Cidade Cada Vez Máis Random tamén quedaron un pouco obsoletas e todo programa que nos faga ver o ben que vive o 1% da poboación semella que non ten moito máis que nos dicir. Si, si, son moi extravagantes, que risa o parvos que son. Agora que os reventen a impostos, por favor, que pola pantalla rimos nós deles pero fóra dela levan eles escachando de nós tempo abondo.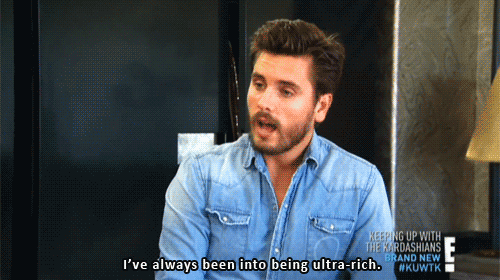 Todas as horas non demasiado ben invertidas en saber como vive esta xente, porén, si serviron para algo: ter un coñecemento bastante exhaustivo sobre as personalidades que podes atopar por aí adiante. Coñecemento que tamén se pode adquirir saíndo á rúa e atopándote coa xente por aí adiante coa desvantaxe de que no 1.0 adoita haber que interaccionar. Vendo telerrealidade podes observar os seus comportamentos sen que te apelen, o que é un alivio. Podes ver a Scott Disick ser what he understands by «honesto», como estila normalmente sen que che faga un comentario impertinente. Aprendes que confundir honestidade e mala educación logo dos quince anos é un erro de persoa ben boba, ben mesquiña pero sen ter que comerte a alguén que o confunda contigo. Con alguén ensañouse, ben é certo, pero ese alguén ten un avión privado e unha pegada de carbono tan grande como a da poboación da Galiza. Está feo, pero non todo lle vai saír ben a esa xente.
Podes tamén ver a Kim Kardashian ofrecerche unha lección maxistral sobre o que significa non entender demasiado ben que teu irmán teña depresión. Por exemplo, ensínache que ao mellor pensar e facerlle saber que consideras que che está a tomar o pelo, non é a mellor maneira de abordar o problema. O «tough love» do que tanto presumes? Not the best of your ideas either. Botalo da túa casa? Bueno, iso pouco importa porque tedes 300. Que importante a progresividade tributaria! En calquera caso, no 2012 Kim Kardashian non era unha persoa que seguira a máxima «softness is revolutionary» e ensinounos que, revolucionario ou non, tratar a alguén con depresión coma un trapo non axuda demasiado. Unha lección ben valiosa, como o seu vestidor dunhas decenas de metros cadrados. Unha lección da que tamén aprende ela como boa socialite / businesswoman / persoa que persegue os cartos, porque se ben queda gravada a relación que ten co seu irmán Rob e o brusca que é con el, enseguida sabe mudar o discurso e contradicir os seus actos para se converter de abandeirada da comprensividade, do «I know where you come from», do «everyone is on a journey». Unha lección que reverte en nós entregándonos outra perla de coñecemento: todo é susceptible de ser mercantilizado, ata a mellor das intencións. Por favor, que redistribúan a riqueza dunha vez, isto é insoportable.